Sign Up for Our Free Book: What Are Your Feet Telling You?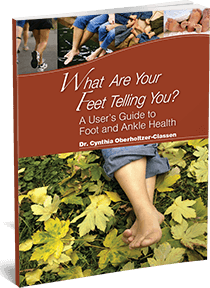 At Podiatry Associates, P.C., we want you to have a clear understanding of the foot and ankle conditions you may be experiencing. Our free book, What Are Your Feet Telling You? A User's Guide to Foot and Ankle Health is a valuable resource to help you recognize symptoms, pick up prevention tips, and learn about the treatment options you have, including what our expert staff can do for you. It's important not to let pain and discomfort go on too long—your feet are trying to tell you something! If you want to keep your feet and ankles healthy and strong, we can help!
Order your free copy of this helpful guide today by simply filling out the form to the left. You can also stop by our Aurora, Castle Pines, Cherry Creek, and Parker, CO locations to find out more, or call us at (303) 805-5156 today.

Dedicated to your health,
Dr. O